So finally we are getting back on the pitch!
As a club we are so excited for the Return to Play from the 12th April. We have been working hard behind the scenes to make sure that we have created a safe environment for all our players, coaches and their families. To ensure that everyone is safe; we are operating with a gradual return to training for all players in our Youth Academy, this will be based around the availability of facilities and the current 'Pathway out of Restrictions' guidance.
Head Coaches will be in contact with parents with details of all training times and venues. Please take time to read the Guidance for Parents carefully to ensure that you have been reminded of the changes that have been made due to Covid-19. Please bear with us as we endeavour to make sure we can provide the best experience possible for all our players.
To ensure that the club is operating at the safest level possible, we have appointed Rodney Weir as our Covid-19 Officer. If you have any queries about Returning to Play please don't hesitate to contact Rodney.
Please make yourself aware of our Return to Play Plan which is available to download here.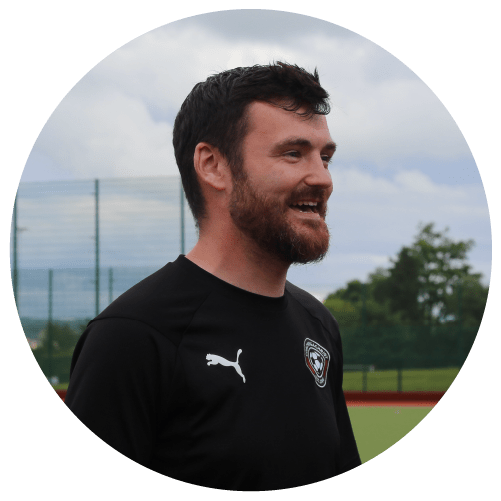 Rodney Weir
Head of Development
rodney@coaching4christ.co.uk
Guidance for Parents
When bringing your child to training, it's strictly drop off and pick up only.
Your child needs to come to training and be picked up at the specified time.
If your child has any symptoms, please do not send them to training.
Please ensure your child has their own water bottle and hand sanitiser.
There will be no spectators allowed at training or matches until we have been advised otherwise by the IFA & NI Executive.
Only people from your household should travel in your car.
Guidance for Players
If you have any symptoms please do not come to training.
Bring your own water bottle. Drinks should not be shared.
Bring your own hand sanitiser to training.
Please come to training in your kit, there is are no changing facilities available.
There will be no hi-fives or handshakes in training or the matches.
Please keep social distancing when not on the field of play.
If you feel ill at any time, speak to a coach.

All decisions have been made in line with the Guidance from both the IFA and NI executive. If you would like further information on the IFA or NI Executive Guidance please click the buttons below. 
If you or anyone in your household have any symptoms please DO NOT come to training. If you are unsure please click the link to explore the goverment website for advice.